Settings Menu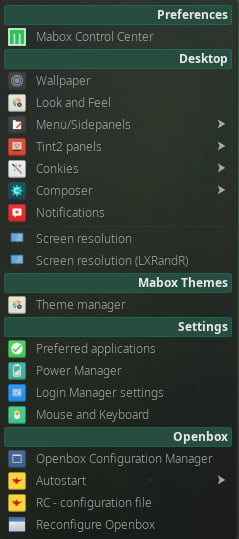 Mabox Settings Menu Super+S is a menu which let you configure most important aspects in Mabox behaviour and look and feel.
Settings menu elements:
Mabox Control Center mcc - a simple GUI application to configure Mabox. Similarly to the Settings menu, it brings together all the configuration tools for Mabox in one place. Read more about Mabox Control Center.
Wallpaper nitrogen
Look and Feel lxappearance
Composer
Notifications
Screen resolution arandr and lxrandr
Theme manager - save and restore desktop settings. Read more about Theme Manager
Preferred applications - set default Web Browser, File Manager and Terminal Emulator
Power Manager
Login Manager settings
Mouse and Keyboard lxinput
Openbox Configuration Manager obconf
Autostart - see Autostart
RC-configuration file - edit main Openbox configuration file ~/.config/openbox/rc.xml in Geany editor
Reconfigure Openbox openbox --reconfigure - reload updated Openbox configuration file (rc.xml), without need to log out.