Menu / Sidepanels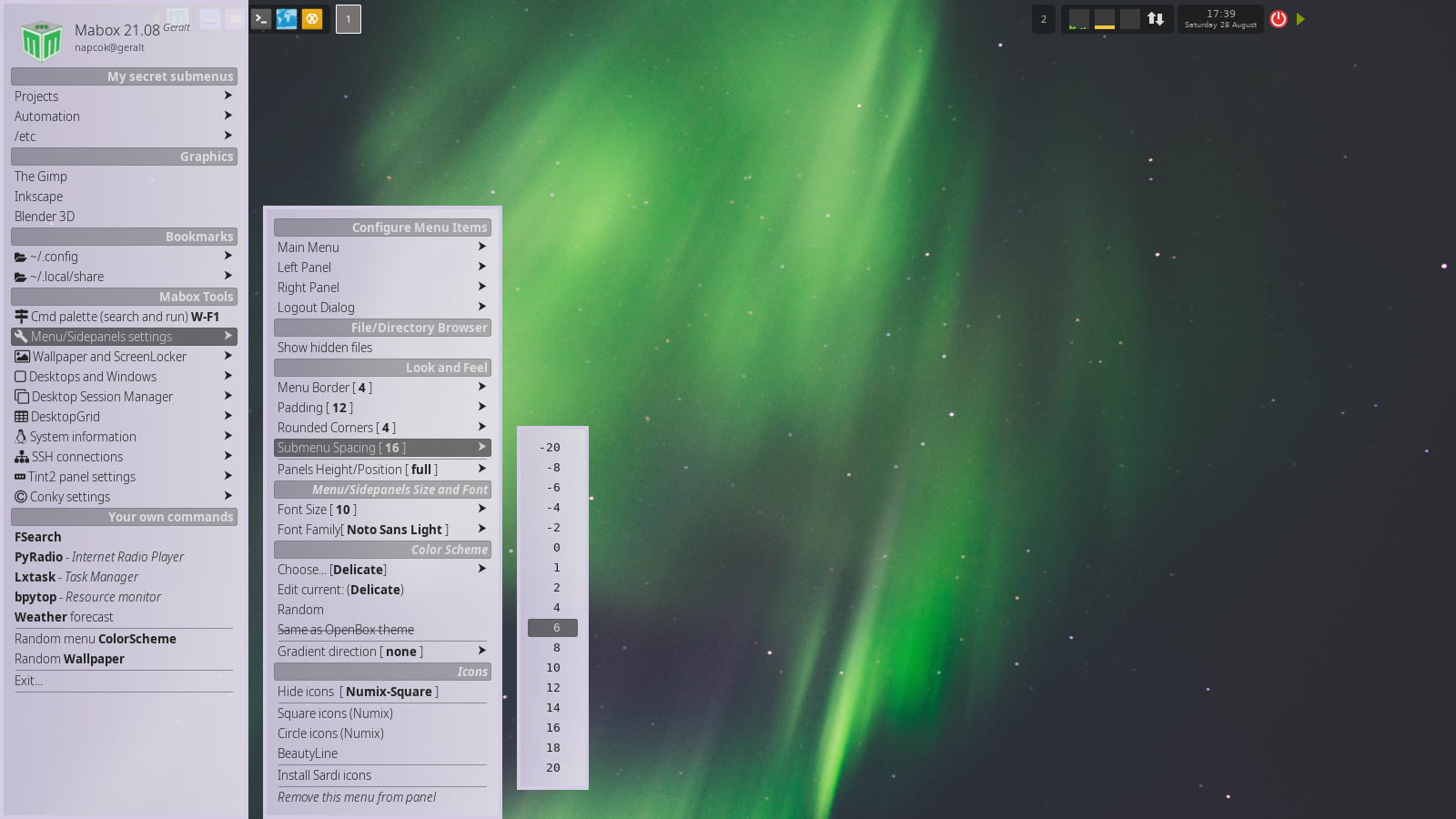 Color schemes, look and feel
Mabox Linux provides many Menu/Sidepanels colorschemes.
To have a quick look at some of them you can use Random menu colorscheme located in Left Sidepanel Ctrl+Super+Left

Much more settings are available from submenu:
Left Sidepanel Ctrl+Super+Left -> Menu/Sidepanels settings (this sumbenu can be also accessed directly: Super+Alt+M)
Configure Menu Items
In this section you can add your own commands to menu/panels. Also it gives you option to select what should be visiblie in Left Sidepanel and how Applications should be presented in Main menu.
File Directory Browser
Just option to show or hide hidden dir/files in directory browser - used by default in Quick navigation (Left Sidepanel).
Look and Feel
Play here with: Border, Padding, Rounded corners, submenu spacing. Also you can set Sidepanels position here
Font Size
Font family and size section
Color Scheme
Select Colorscheme here. Or edit it to your needs.
Icons
Adding own commands
Info
Menus, sidepanels and many helpers in Mabox Linux are scripts utilizing jgmenu.
You can add your own commands, scripts to menu and sidepanels quite easily.
Go either to Mabox Control Ceneter -> Menu /Sidepanels
or
Left Sidepanel Ctrl+Super+Left -> Menu/Sidepanels settings
TO BE WRITTEN
Advanced customization
Custom submenus
Pipemenus